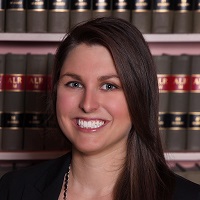 Let's Talk Retirement: Department of Labor's Final Rule – by Jordan Walsh
 Jordan Walsh is an associate with Allison MacKenzie Law Firm with primary practice in the areas of Labor and Employment Law and Civil Litigation. Jordan was admitted to practice in Nevada and California in 2014.
"The way we plan for retirement in the U.S. has changed drastically in recent years. In the past, employees could rely on pensions, which were typically managed by a financial expert, to support them through retirement. Today, for most of us, pensions are things of the past, and we are responsible for making the financial choices that shape our retirement. While this system provides retirement savers the flexibility to make financial choices that are uniquely tailored for their situations, this method of saving is fraught with pitfalls since most of us lack the skills needed to invest savings in a manner that will allow us to efficiently meet our retirement goals. Accordingly, we look to financial advisors to assist us in making smart financial decisions that allow us to reach our retirement goals.
While most of us have good relationships with our financial advisors, statistics suggest that there is a segment of financial advisors who abuse the trust of their clients by putting their own financial gain above their clients. The Department of Labor ("DOL") and the White House Council of Economic Advisors ("CEA") estimate that on average conflicts of interest between unscrupulous financial advisors and their clients cause retirement savers to earn one (1) percentage point less annually than would be expected based on the status of the economy and returns. Furthermore, the DOL estimates that such advisors cause their clients to waste upwards of $17 billion of retirement savings yearly on exorbitant fees and lost revenue associated with the purchase of ill-advised financial products resulting from a conflict of interest. Conflicts can occur because financial advisors are not currently held to a fiduciary standard under the law, and have no duty to provide advice that aligns with the client's financial goals. In fact, it is common for firms and purveyors of financial products to provide financial incentives to advisors whose clients invest in certain financial products."
Read the complete article at Northern Nevada Business Weekly.